London isn't short of cocktail bars - from sleek hotels to hidden speakeasy-style dens, you'll find something to suit your drinking needs. We bring you our definitive round-up of the best bars in London.
Duck & Waffle
110 Bishopsgate, London EC2N 4AY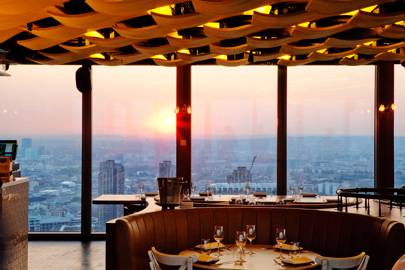 There are lots of ridiculously tall buildings in London, and although there's no denying that the Shard is the biggest, we reckon the Heron Tower is the most fun. Why? Because it's got a Willy Wonka-style glass lift that whizzes you up to the 40th floor and delivers you to the door of Duck & Waffle – a glass box in the sky with heart-pounding views and a bar that stays open 24/7. This season, each cocktail is based on a fruit, vegetable or nut. We recommend starting with something light like the Lime, which is made with lime-leaf Bombay Sapphire gin, lime-husk cordial, lime juice, egg white and lime ash, which on further inspection is desiccated lime ground up really finely. We then recommend you play a little drinking game where you try to match your drink to the colour of the sky as you watch the sun set over London. This way you'll probably end the night with the Walnut: whisky, pickled-walnut dry vermouth and walnut maple. Just watch out for the inevitable stomach drop when you ride that lift back down to earth . . .