GQ
London Restaurant of the Week: Duck & Waffle
Mar 28, 2017
Duck & Waffle has become something of a London institution. The views from the fortieth floor of the Heron Tower are spectacular, sure, and the fact that it's open 24/7 also makes it memorable, but it's the food that's really cemented the restaurant's position as one of the best in the city. The signature "duck and waffle" dish must be one of the most Instagrammed plates of food in Britain, with interest in both the restaurant and the Chef Director Dan Doherty showing no sign of subsiding.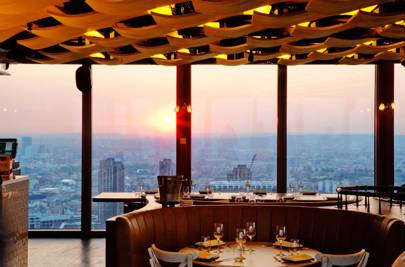 The vibe?
The 360-degree views mean you barely notice the actual decor, but once you've had a chance to tear your eyes away from the Thames, you'll see that the interiors are immaculate. It's modern, fun and comfortable - with big leather booths for larger groups - which makes the space a perfect reflection of the menu itself. While the restaurants in the Shard boast similar, if not, better views of London, Duck and Waffle feels far less touristy and generally has a more relaxed, remarkably buzzy atmosphere.
Menu highlights
Starters
Bread: snack on one of the baked-to-order breads while you mull over the menu - we'd particularly recommend the Nduja and Gruyère option.
Puy Lentils: served with spinach, sweet onion and organic yoghurt, this dish is gloriously rich and creamy, with little crispy bits that take it from good to unforgettable.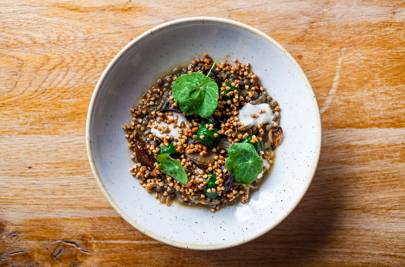 Monk's Beard: the kitchen's inventive take on a Caesar salad sees Italian green shoots (which look a bit like samphire) served with Caesar dressing, poached hen's egg, bread crumbs, Parmesan & hazelnuts. Once we got your heads around the monk's beard being served warm, GQ appreciated this as an interesting, tasty update that still doesn't stray too far from the original.
Mains
Angus bone-in ribeye: given that this hunk of meat weighs in at 500g, it's hardly surprising it's recommended for two. However, the steak was so succulent, and the accompanying vegetables so well-paired with it, that we'd be willing to place our bets on a gentleman with a larger appetite having no problem ploughing through the whole dish to himself.
Duck and waffle: it sounds like it shouldn't work, but trust us, the crispy confit duck leg served on top of a gloriously fluffy waffle with a fried egg and mustard maple syrup is one of the most bonkers-but-brilliant things we've ever eaten.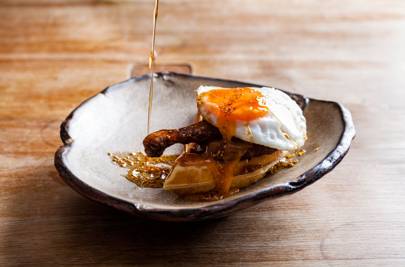 Desserts
Salted caramel choux bun: this (relatively) light dessert is the ideal way to round off the food fest. The smoked hazelnut cream offsets the intense salted caramel like a dream, and for an extravagantly calorific treat, it slipped down even more easily than the dangerously refreshing Pine Needle Lemonade cocktail.
Verdict?
It's easy to see why Duck & Waffle has established itself as a firm favourite with Londoners, despite only being open for just under five years. The impeccable, inventive food, the sleek venue itself and the agreeable ambience makes this a must-visit central London stop off for larger groups, a date or even a quick breakfast by yourself. What are you waiting for?
110 Bishopsgate (Heron Tower), 110 Bishopsgate, London EC2N 4AY; 020 3640 7310.
duckandwaffle.com